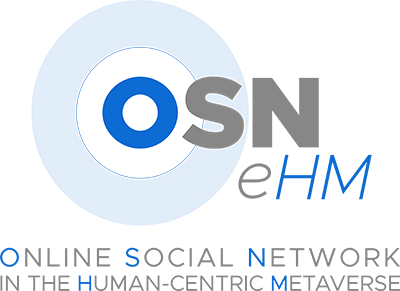 ---
Current status: paper submission site available, eagerly waiting for your submissions!
---
OSNeHM is the First International workshop on Online Social Networks in the Human-centric Metaverse, co-located with The Web Conference 2023 (April 30th - May 4th, 2023, Austin, TX, USA).
OSNeHM will be a unique opportunity to discuss forthcoming and long-term challenges and approaches in the characterisation of the human behaviour via Online Social Network analysis and the design of novel solutions and tools for Online Social Network and Media. Special emphasis will be given to discussing these topics in the perspective of a human-centric Metaverse, and the role of Online Social Networks and media herein.
Editorial follow-ups
We will organize a special issue on the Elsevier Online Social Networks and Media Journal, soliciting submissions of extended versions of particularly promising papers. OSNEM is a recent yet very well-reputed (Q1 SJR) journal covering, among others, 100% of the workshop topics.
Important dates (all deadlines are AoE)
Abstract registration:      February 6, 2023
Submission due:             February 6, 2023
Notification of acceptance: March  6, 2023
Camera ready due:           March  20, 2023
Workshop date:              April 30th || May  1, 2023

Organisers
Marco Conti - IIT-CNR, Italy
Andrea Passarella - IIT-CNR, Italy
Jussara M. Almeida - Federal University of Minas Gerais, Brazil
Arkaitz Zubiaga - Queen Mary University of London, UK
Hybrid policy
OSNeHM follows the general policy about in-presence vs. remote participation defined for The Web Conference 2023.
The policy for the full conference (including workshops, tutorials, etc.) is as follows:
All presenters (keynotes, papers, etc.) need to be physically present. No virtual presentations are allowed. As such, registration is mandatory for all presenters / speakers. It is allowed to foresee a proxy (i.e. somebody else who presents the paper physically) in case the author cannot attend (for justified reasons).
Virtual attendance is allowed, i.e. providing a link from which people (who are thus not presenters) can follow the workshop / conference remotely. However, this is not supported by the conference. The workshops will need to set up their own link. There might not be a high-end set-up for Video & Audio, as such, everything will need to be streamed through a laptop.
For each workshop, at least one organizer needs to be physically present and registered.
Contacts
For more information, please reach out via email to the workshop co-chairs.